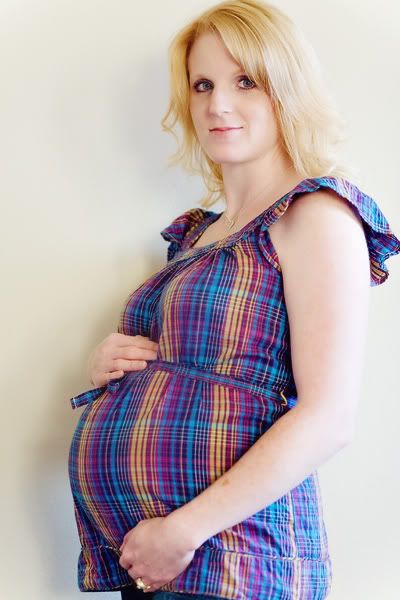 So...I'm
really
pregnant now! ha! It's undeniable. Everyone can tell! There is no hiding it. Not that I ever wanted to! :) I am asked often when our baby is due. I find great pleasure in people noticing and asking! :)
I love being pregnant.

I love feeling our baby boy move around
I love shopping and registering for the baby!

I love buying new cute maternity clothes that are often not even maternity, like the shirt in this photo. ha!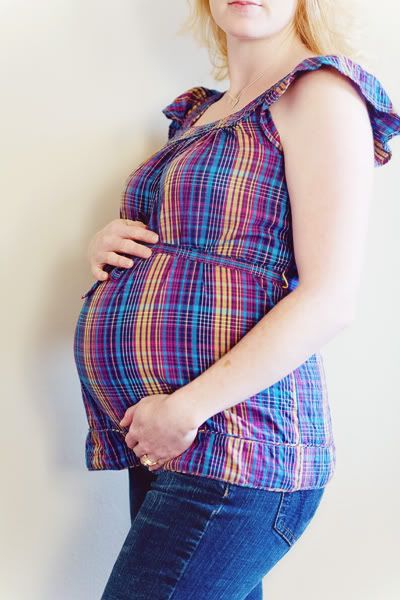 What I
don't
love...
the lack of sleep I am already experiencing because I cannot get comfortable at night.

The muscle aches in my back from carrying extra weight in front.

The sore ribs from baby boy kicking me!

The

constant

need to empty my bladder...3 am walks to the restroom are not fun!

Heartburn, because there just isn't enough room for all the food I wish to consume! :)

Not being able to put socks and shoes on very easily.
We had an appt. with the midwife today and we discussed homebirth as an option. We are set up for a home visit a month from now. In the meantime we are weighing the pros and cons of each, a birth center birth, and a home birth.
It's amazing to think that we will have a little infant in our house in approximately 48 days! WOW!
And Mom comes in "29 sleeps!" G. and I are going to make a count-down paper chain tomorrow! We can't wait to see her!
Sidenote

:

These two photos are the regular run-of-the mill "document the month" photos. We got a little creative and took some more artsy photos that show a bit more skin. G. was in there chatting with us while we were taking them, so they aren't risque or anything...but I am hesitant to share those ones here on the blog. They are actually some of my favorites though...I might come up with a way to share...maybe. :)