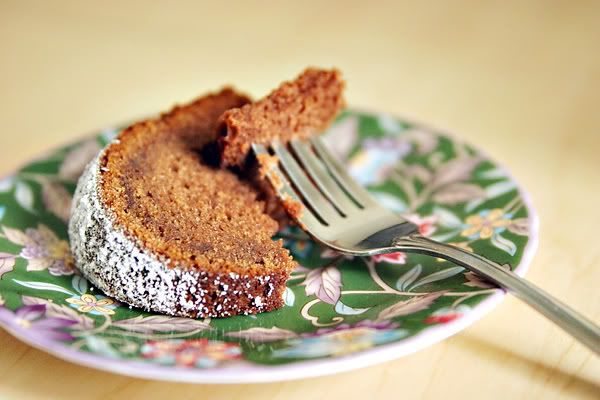 I've had a few requests for this recipe... :) Thought I would oblige...
I got this recipe from David's cousin
Katie
, who is a wonderful pastry chef. I'm sure she has many more complicated recipes than this up her sleeve, but this one is SUPER easy!
Kahlua Cake
1 Box of Yellow Cake Mix
1 Sm. Box of Instant Chocolate Pudding
7/8 Cup of vegetable/canola oil (so just under a cup)
1 Cup of water
4 Eggs
½ Cup Kahlua (generous cup)
Mix together ingredients until batter is smooth.
Pour into a greased bundt pan and bake at 375 degrees for 40-45 minutes, until toothpick inserted comes out clean.
This cake is so moist it does not need an icing.
It is pretty if you dust it with powdered sugar. If you really feel like you need an icing, mix enough powdered sugar with milk to get a creamy consistency icing and drizzle over cake.