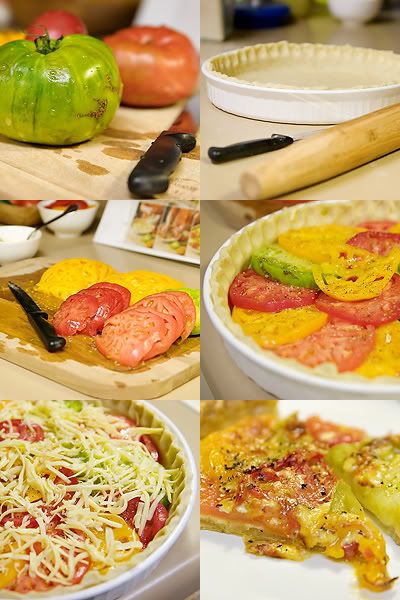 The other day while shopping for our weekly produce I could not resist these beautiful organic heirloom tomatoes. I didn't even flinch when the cashier rang up these beauties and $14 was displayed! I
knew
they would be worth every penny!
And I was right...I dug up a recipe I have had in my "recipes to try" folder for years! I tore it out of a Martha Stewart Living magazine years ago, but you can find it
HERE.
The recipe above has a link to a Pâte Brisée recipe I generally use for sweet tarts.
The recipe I tore out of the magazine has a different variation for a savory tart:
2 1/2 cups all-purpose flour
1 teaspoon salt
1 tablespoon chopped fresh herbs (I used thyme)
2 sticks (8 ounces) cold unsalted butter, cut into small pieces (I only had salted on hand)
1/2 cup ice water
Process following the recipe for a sweet tart.
I used smoked gouda cheese instead of fontina. YUM!
I even had enough dough leftover for a quiche tonight!