Lately I have been encouraging Gwyneth to spend less time on the computer/DS/TV.
When these privileges are taken away she usually whines to me saying "I'm bored…there's NOTHING to do!"

Enter the…
Boredom Basket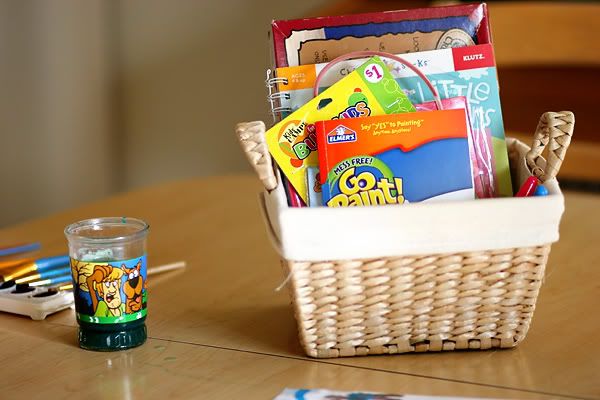 I raided our craft/game closet the other day and gathered a few small projects and art items to fill a little basket I had handy.
The basket contains:
a weaving loom set

a letter/note writing kit (very cool find in Anchorage last summer:




Klutz Little Letters

)

a beginner Dora The Explorer cross-stitch kit

a foam wallet project

a suncatcher kit


Elmer's Go Paint

book and paint brushes

watercolors, cup for water, and paintbrushes
As you can see from the above photo she discovered the basket yesterday and used the watercolors to produce beautiful art pieces. We hung two on the wall and saved one to send to Auntie Angie in Maryland. (Auntie Angie just recently sent Gwyneth a birthday package full of crafty things…sand art, jewelry making kit, scrapbook kit…etc. These will be put in the basket when there is a little room.)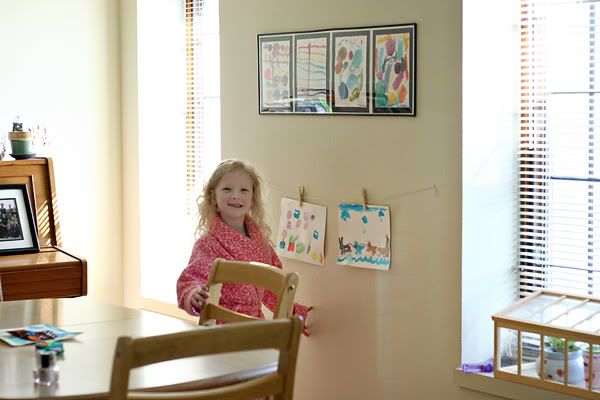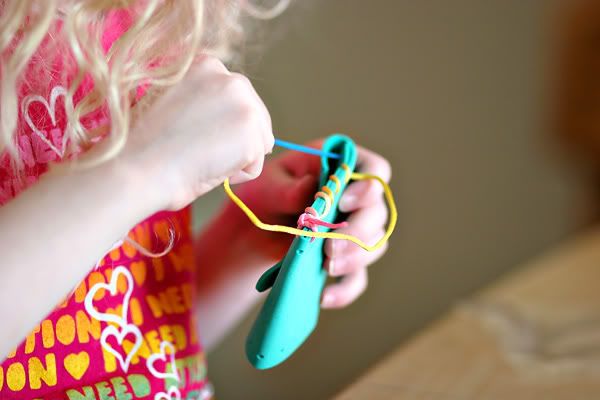 She also found the foam wallet kit.

She also wrote a note with the Little Letters kit. Today she is begging to do the suncatcher. I better be off to get that set up for her…

Having these items out and accessible for Gwyneth was key. If I sent her into the craft/game closet she would have to search amongst the many items in there for something to do, she may become discouraged...now it is readily available to her! I LOVE it!
Now I just have to be on my toes with keeping it stocked with fun stuff to do…With my Mother's Day present it should be easy to come up with some stuff…

This is a book David *wink* recently ordered for me…(actually I ordered it along with this stainless steel travel mug and told him what he got me for Mother's Day :o)