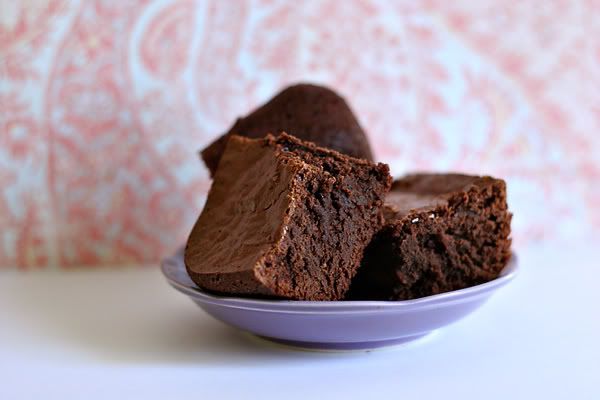 I am a self-professed brownie junkie! I love brownies! I could eat the whole pan myself. I know I shouldn't be proud of that...But I LOVE BROWNIES.
Up until now I have relied on boxed brownie mixes...My mom and sister put
bags
of my favorite mix from Walmart, in just about every package they send my way. I cannot get these mixes here in Alaska since we do not have a Super Walmart (
yet
... one is opening here this summer.)
But, I don't think I will ever buy another brownie mix again...
Much like my quest for the ultimate chewy chocolate chip cookie recipe (which I have found by the way,) I have not found a made-from-scratch brownie recipe that would produce the chewy center, crisp edges and glossy top I crave.
That is until last week...
While browsing through my new favorite
blog
, I stumbled across
this
brownie recipe.
Ingredients
8 tablespoons (1 stick) unsalted butter, cut into pieces, plus more for pan

1 cup all-purpose flour (spooned and leveled)

1/4 cup unsweetened cocoa powder

1/2 teaspoon baking powder

1/2 teaspoon salt

8 ounces semisweet or bittersweet chocolate, chopped

1 1/4 cups sugar

3 large eggs
Directions
Preheat oven to 350 degrees. Brush a 9-inch square baking pan with butter. Line bottom and two sides with a strip of parchment paper, leaving a 2-inch overhang on the two sides. Butter paper, and set pan aside. In a small bowl, whisk flour, cocoa, baking powder, and salt; set aside.

Place butter and chocolate in a large heatproof bowl set over (not in) a saucepan of gently simmering water. Heat, stirring occasionally, until smooth, 2 to 3 minutes; remove bowl from pan. Add sugar; mix to combine. Add eggs, and mix to combine. Add flour mixture; mix just until moistened (do not overmix). Transfer batter to prepared pan; smooth top.

Bake until a toothpick inserted in center comes out with a few moist crumbs attached, 50 to 60 minutes. Cool in pan for 30 minutes. Using paper overhang, lift brownies out of pan; transfer to a rack to cool completely (still on paper). On a cutting board, using a dampened serrated knife, cut into 16 squares. Store in an airtight container at room temperature, up to 2 days.
*I skipped lining the pan with parchment paper. I am lazy. But one tip I will share that is absolutely essential to good brownies: cut them after they have cooled a bit with a

plastic knife

! Clean cut brownies every time...no crumbs. You have to try it!
Also, if you have a 9x9 pan use it! I only had a 9x7 and the brownies were pretty tall. I like mine a little shorter! :o)*