So this soup is
technically
a chili. :)
In my favorite recipes binder soups and chilis are a combined folder.
Since we are meat-free at home, I do not include the ground turkey when preparing it for my family.
In my opinion it is even tastier without it!
This chili is so simple, yet has amazing flavor!
It's even better the next day!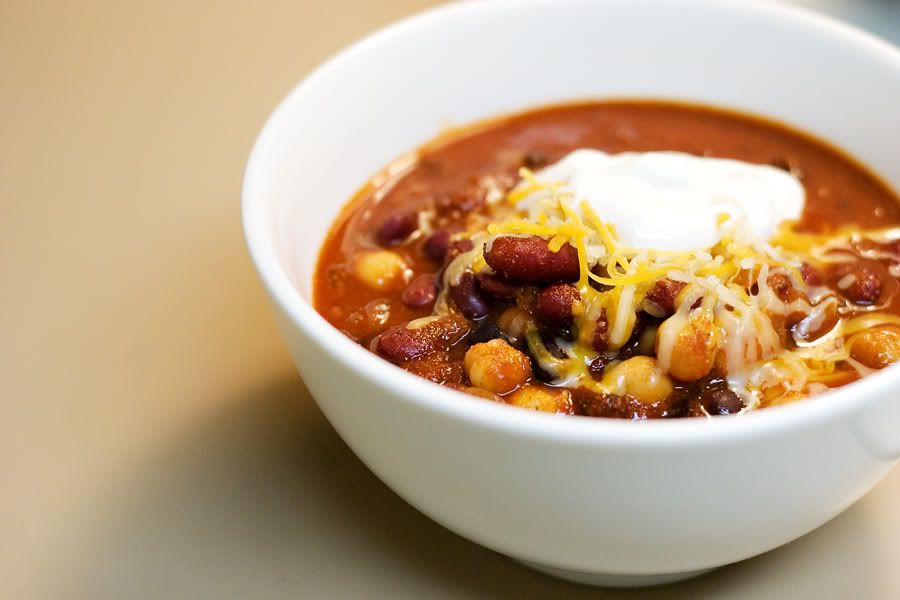 Ingredients
1 pound extra-lean ground turkey breast
2 teaspoons garlic powder
1 teaspoon paprika
1 teaspoon salt
1 teaspoon black pepper
1 teaspoon cumin
1 teaspoon oregano
6 teaspoons chili powder
½ onion, diced
½ teaspoon ground red pepper (add more for hotter chili)
2 teaspoons flour
1 12-oz. can crushed tomatoes (without paste)
1 15-oz. can red kidney beans
1 15-oz. can garbanzo beans
1 15-oz. can black beans
1 can water
Brown ground turkey in a pot. Drain fat. Add crushed tomatoes and water, and all spices. Mix thoroughly. Cover and simmer 25-30 minutes, stirring every 10 minutes.
Uncover pot, add flour, and mix through.
Add all beans, mix and let simmer uncovered for 20 minutes.
262 calories, 6g fat, 34g carbohydrates, 19g protein, 10.5g fiber
Printable recipe found HERE