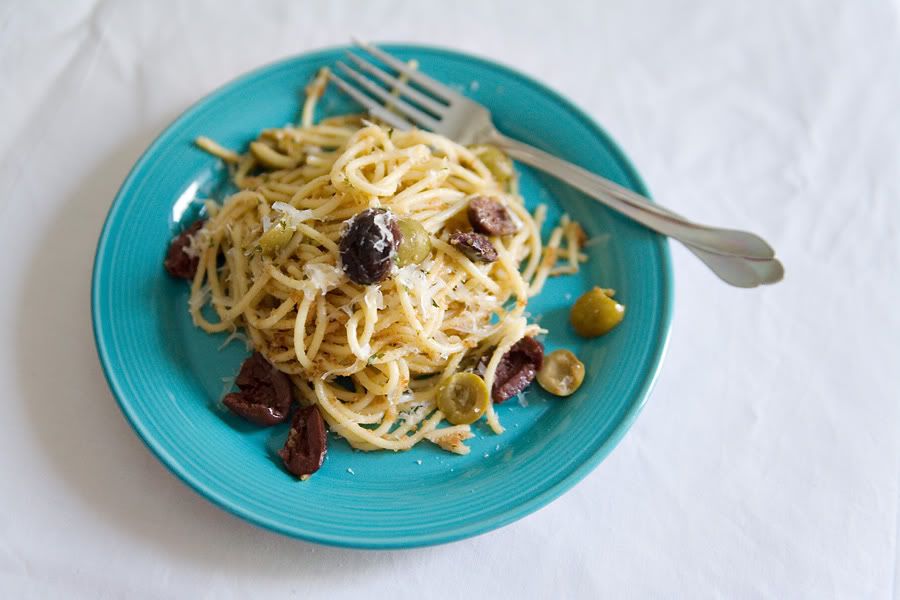 After my post
Lovely Afternoon
I had a request to share the recipe for the yummy olive/pasta dish pictured.
This is a super easy recipe I prepare quite often because I usually have all the ingredients right in the pantry. I love the leftovers too!
This recipe is from Giada De Laurentiis and her show Everyday Italian on Food Network.
If you click the title of the recipe it will take you to the Food Network site. Once there you can read the reviews. Some reviewers mentioned cutting out some of the oil, and not using all the pasta water later in the dish. Good suggestions. And some mention that since the olives you use are very salty, no added salt is needed! I will second that opinion! Hope you enjoy!

Spaghetti with Olives and Bread Crumbs
INGREDIENTS
* 1 pound spaghetti
* 3/4 cup extra-virgin olive oil
* 2/3 cup seasoned dried bread crumbs
* 1/4 teaspoon sea salt, plus more for seasoning
* 1/4 teaspoon freshly ground black pepper, plus more for seasoning
* 3/4 cup pitted and roughly chopped black olives (recommended: kalamata)
* 3/4 cup pitted and roughly chopped large green olives (recommended: Bella Di Cerignola)
* 1/3 cup freshly grated Parmesan
* 1/4 cup chopped fresh flat-leaf parsley
DIRECTIONS
Bring a large pot of salted water to a boil. Add the pasta and cook, stirring occasionally, until tender but still firm to the bite, about 8 minutes.
Meanwhile, in a large saute pan, heat the oil over medium-high heat. Add the bread crumbs and 1/4 teaspoon each of the sea salt and pepper. Stirring constantly, cook the breadcrumbs until golden brown, about 2 minutes.
Drain the pasta, reserving 1 cup of the pasta water. Stir the pasta into the bread crumb mixture. Remove the pan from the heat and add the black and green olives. Add the Parmesan cheese and 3 tablespoons of the parsley. Season the pasta with salt and pepper, to taste. Gently toss to coat, adding reserved pasta water, if needed, to loosen the pasta. Transfer to a large serving bowl and garnish with the remaining parsley.