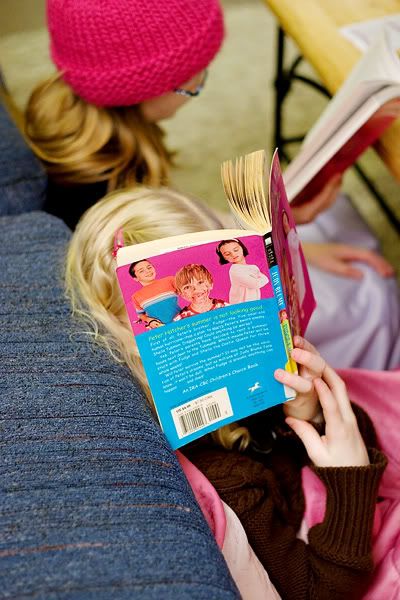 One evening after AWANA G. was running around with the other kids playing.
She comes over to me yelling "I'm a Prodigal! I'm a Prodigal!" Being that we were at a church function, I assumed she had heard of the prodigal son...I thought it odd but giggled at her.
Later that night as I was putting her to bed, she said it again...dramatically..."I'm a prodigal!"
I asked her what she meant, and she said "You know, the flying dinosaur!?"...
I said "OH! A pterodactyl?!"...
Apparently she had been reading
Captain Underpants and the Preposterous Plight of the Purple Potty People
that day and had read the word pterodactyl pronouncing the silent "P."
Now I get it!
☺
Photo is totally unrelated, but you know I couldn't post just words!

☺

G. reading

"Fudge-A-Mania"

by Judy Blume.