and I'm a chocolate-chip-cookie-aholic... :o)
Gwyneth and I make chocolate-chip cookies about every other week. We buy the Nestle Semi-Sweet chocolate chips in bulk from Sam's. You know, the "chocolate lovers" 72 oz. package! hee! hee!
We made a batch today...
Gwyneth told me that her favorite parts of making chocolate-chip cookies is that she gets to lick one of the beaters (*gasp* Yes I let her eat raw egg! I have eaten cookie batter for 20+ years and have never had any adverse reactions...)
and that she gets a little bowl of chocolate chips...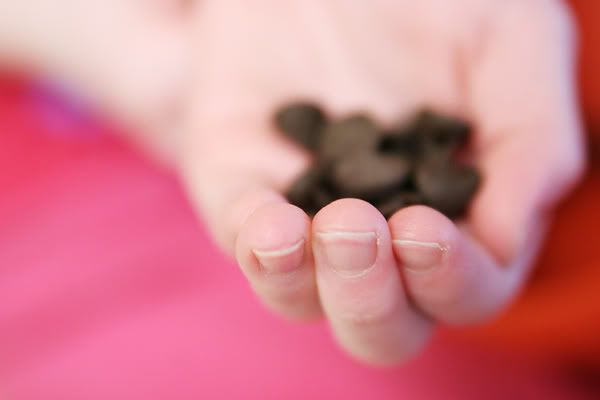 My favorite part is eating a cookie fresh from the oven, still warm, chocolate oozing when I take a bite...mmmm....it's even better with an afternoon cafe latte!
(
please ignore my poorly manicured cuticles...
)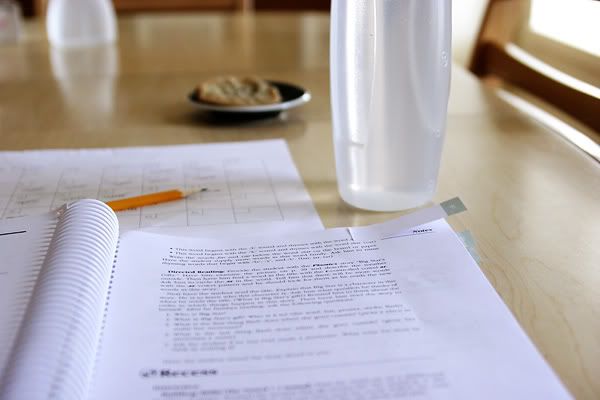 The above photo shows just one of the perks of home-schooling...chocolate chip cookies while you do your Math! :o) My personal favorite perk is Reading lessons in your jammies...hee! hee!
We're wrapping up the school year. We will be finished next Thursday! Just in time to go camping Memorial Day weekend! Woo! Hoo!
Oh, if you're interested...here is my favorite chocolate-chip cookie recipe:
Tips:

Make sure all your ingredients are room temperature, especially your butter and eggs, and wait at least 10 minutes after preheating your oven to
350°
to put your first batch in.
I make a whole recipe of dough but only bake a dozen cookies at a time. Rather than make all 4 dozen cookies at one time, only for them to go stale because we can't eat them fast enough, I save the rest of the batter in a food storage container in the refrigerator and bake the cookies as we want them. Sort of like the Pillsbury refrigerated dough you buy at the grocery store. I'm sure this homemade batter, when refrigerated, is best if used within a week, unlike the store bought dough...the dough never lasts that long around here for me to tell you from experience! ha!

Ingredients:
½ cup sugar
1 cup packed brown sugar
1 stick butter (room temperature)
½ cup Crisco
Cream together a total of 3 minutes before adding:
2 eggs (room temperature)
1 ½ teaspoons vanilla
Mix until combined with butter mixture.
In a separate bowl mix the following:
2 1/2 cups flour
1 teaspoon baking soda
1 teaspoon salt
Whisk until combined.
Add flour mixture to cream mixture. Mix until just combined. Fold in chocolate chips and let the dough sit for a few minutes. Scoop onto cool baking sheets and bake until just golden brown. (8-10 minutes.) I take mine out before they are completely cooked-when they still look a little doughy. Let them sit and cool a few minutes on the cookie sheet before transferring to a cooling rack.
*Variation*
Chocolate-Chocolate Chip Cookies
Use 2 cup of flour, and 1/2 cup of cocoa powder in place of 2 1/2 cups flour above.