Turned on my computer today and was greeted by this...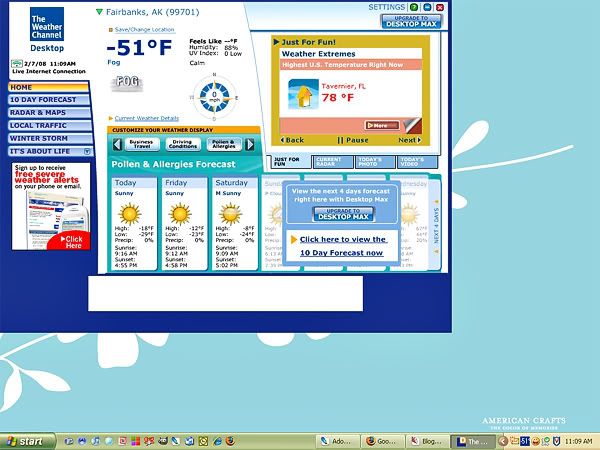 Now that's COLD! I know, I know...enough screen shots already and post something interesting! I'll get to that soon I hope! David goes back to work next week. 4 weeks home, all day, everyday...It will be a definite change. We've already been trying to get back into some sort of routine, so when he does go back it's not such a shock having to wake up at 5:45 AM. The first two weeks he was home, we were staying up really late and sleeping in late. This week we've been getting to bed at a decent hour, and waking together at 6 AM.
I am not naturally a happy morning person, so this has been particularly challenging for me. This will be good for all of us though. I get so much more done when I get up early. I'll be able to have breakfast with David before work too!
We've been gaining about 6 minutes of sunlight a day too...so that makes it easier to get out of bed. Soon it will be sunny at 6 AM! ha!
Despite the bitter cold, it has been sunny and beautiful here! I would be out photographing all the beautiful scenery if my fingers wouldn't freeze up upon walking out the door! :o)
There is still a few months of snow though. I see a photography field trip coming up in the near future.
Also hoping for some more glimpses of the Northern Lights. We saw them in February of last year.
Look what we get to "dig out" this weekend! It hasn't been started in 4 weeks!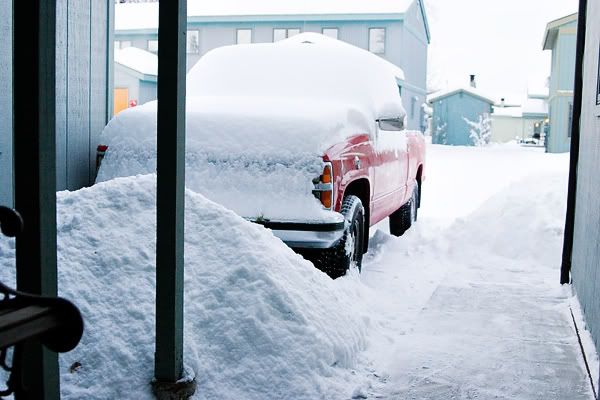 It hadn't snowed in weeks, and then all of a sudden a couple days after David's surgery, it starts snowing buckets! I HATE shoveling the drive! I shoveled the garage driveway and the walkway with a little help from Gwyneth. She became a little distracted by cleaning off Daddy's truck. She had fun playing in the bed, making snow angels in the good foot of snow that accumulated in there!
'Till next time...