It was even colder on Wednesday and Thursday!( -38° & -42° respectively.) David came in to kiss me goodbye Wednesday morning and asked "Were you planning on going anywhere today?"
I say (half-asleep) "No, why?"
He replies: "My truck won't start, and the doors are acting funny."
I told him to take my car. It is SO cold out there! All our window sills are ice cold to the touch. I had to move my little plants somewhere else.
I have got to have one of the sweetest husbands. I woke up Wednesday morning with an extra blanket on me. I peeked in at Gwyneth and she was covered with an extra blanket as well. I guess he thought we might be cold. ♥
I'm such a weenie...After he came home that night, I told him I needed a few things for dinner. He was sweet enough to go back out in the cold and pick up the items for me.
Gotta love him!♥
Christmas packages have been flowing in! I LOVE packages...even if they aren't for me. David brought the mail in the other night (He is officially the "mail-checker" when it is this cold!) and Gwyneth and I swarmed him! :o) We all love mail! We have also received many Christmas cards as well! LOVE seeing those!
Dinner on Wednesday was my all-time favorite soup:
Mexican Chicken Soup
.
(You can access the recipe by clicking the pink name. )
The link takes you to the "Beans Blog" I contribute to.
If you're looking to eat healthier and need some inspiration, and access to some delicious tried & true recipes...come on over and take a look! I have tagged the recipes that I have contributed with my name, for easy reference.
We recently tried the
Shrimp Pasta Puttanesca
and really liked it. I am not really keen on seafood, but the shrimp was pretty good. It is also a really fresh, and pretty dish! :o)
*TIP* resist the urge to salt this dish while cooking! The capers and olives make it plenty salty. I was not thinking and added a smidge of salt and wished I had left it out! Oh, and I also omitted the anchovies
!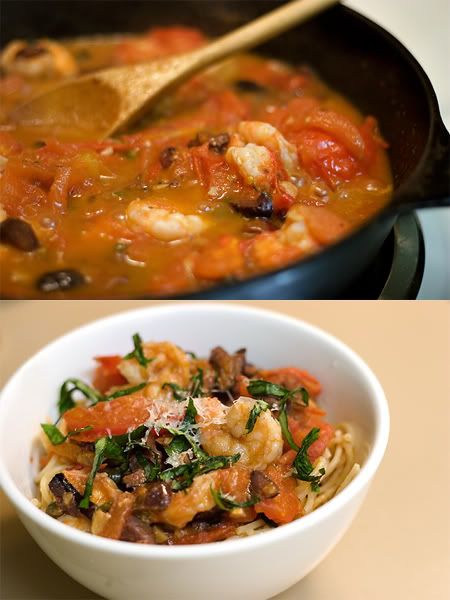 We also tried the
Cajun-Spiced Fish With Fresh Corn Salad
that
Bonnie
posted. (Again, click on the pink name and it will bring up the recipe.)
I used talapia, and absolutely LOVED it! I WILL make it again! It was so tasty, and took no time at all to prepare. David was a little surprised that the beans in the salad were cold. I emphasized the title "Salad." ha! :o) I enjoyed it very much. I was able to use some of the beans we froze from our
farm share
this past summer. (Find a local CSA- community supported agriculture) in your area by clicking the pink.) I LOVED the red onion in the salad, and the cilantro was divine!
Very fresh tasting! I used canned corn instead of fresh for now. In the summer you can be sure I will make it with fresh corn! I highly recommend this recipe! If you do not care for fish, use talapia. It is a very mild white fish. (It didn't taste "fishy" at all!)
Thankfully it is only -9° this morning. I am thankful because I have a hair appointment this afternoon and was dreading going out in the extreme temperatures we've been having! At least -9° is bearable! (I never though I'd say that in my lifetime! ha!)
Here is a picture of our windows from the
inside
of our house! The ice is gathering around the areas any warm air escapes! Crazy!
Have a wonderful weekend! Enjoy your family and friends and all your holiday festivities!