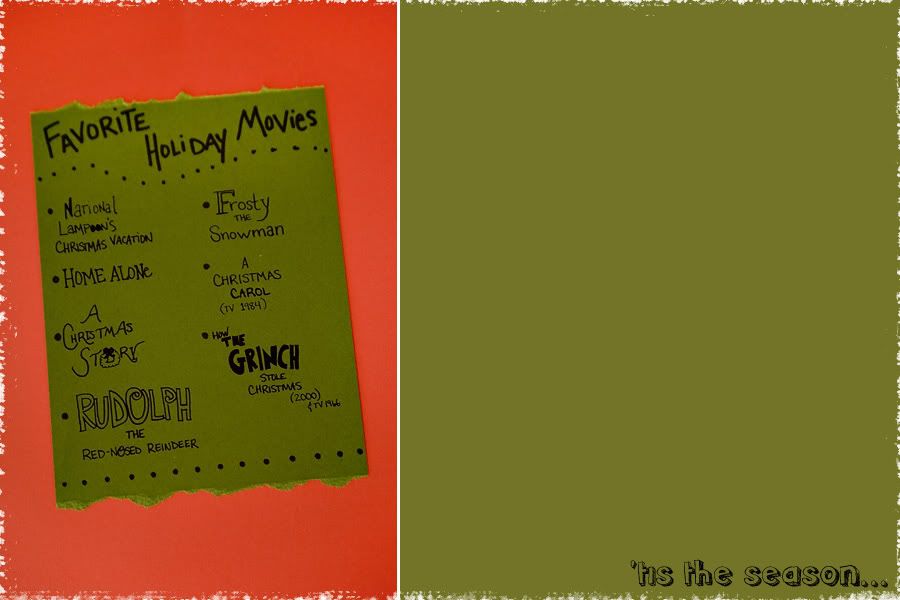 My friend
Bonnie
turned me onto
this cool blog
that's right up my alley with her weekly feature
List It Tuesday.
*and i just love her
etsy store
!
This
print went on my wishlist immediately! and I like
this
one and
this
one...o.k. I love almost all her stuff!*
I'm a big list maker. Every Monday I take the time to make my
Happy List
.
I have hand written notes all over the place, and I have recently taken to making lists on my iPhone.
However, I much prefer a handwritten note over a digital one. There is something so satisfying in crossing off items on a to-do list, and it's always fun to refer to a note documenting the fun stages in my kid's lives, better yet, I
love
getting a hand written love note from my hubby!
Last night over dinner our little family was discussing our favorite movies that we just
have
to watch around the holidays
every
year. With
List It Tuesday
in mind I had fun compiling a list of our favorite holiday movies. After I formatted this photo we all remembered one of our favorite movies!
ELF
! Can't believe we missed that one the first go around! :)
Happy List-making! :)