Anyone who knows me, knows that I am a big fan of soup! It's my favorite "food group!" :)
There's something so satisfying in a big bowl of piping hot soup. Soup is a great way to consume a lot of healthy vegetables and proteins in one sitting.
My most favorite soups contain lots of vegetable, beans, and grains!
When the weather turns even the slightest bit cooler, you can bet I have soup on the menu at least once a week! :)
One of our favorite soups in the Fall is Pumpkin Soup. First introduced to us about 5 years ago by David's cousin
Katie
, we traditionally eat it in October, usually whilst carving our pumpkins.
I'll admit I was a bit skeptical of it at first, afraid I may not like it. Boy was I wrong! It is AMAZING!
I am posting my version of the recipe she shared with me.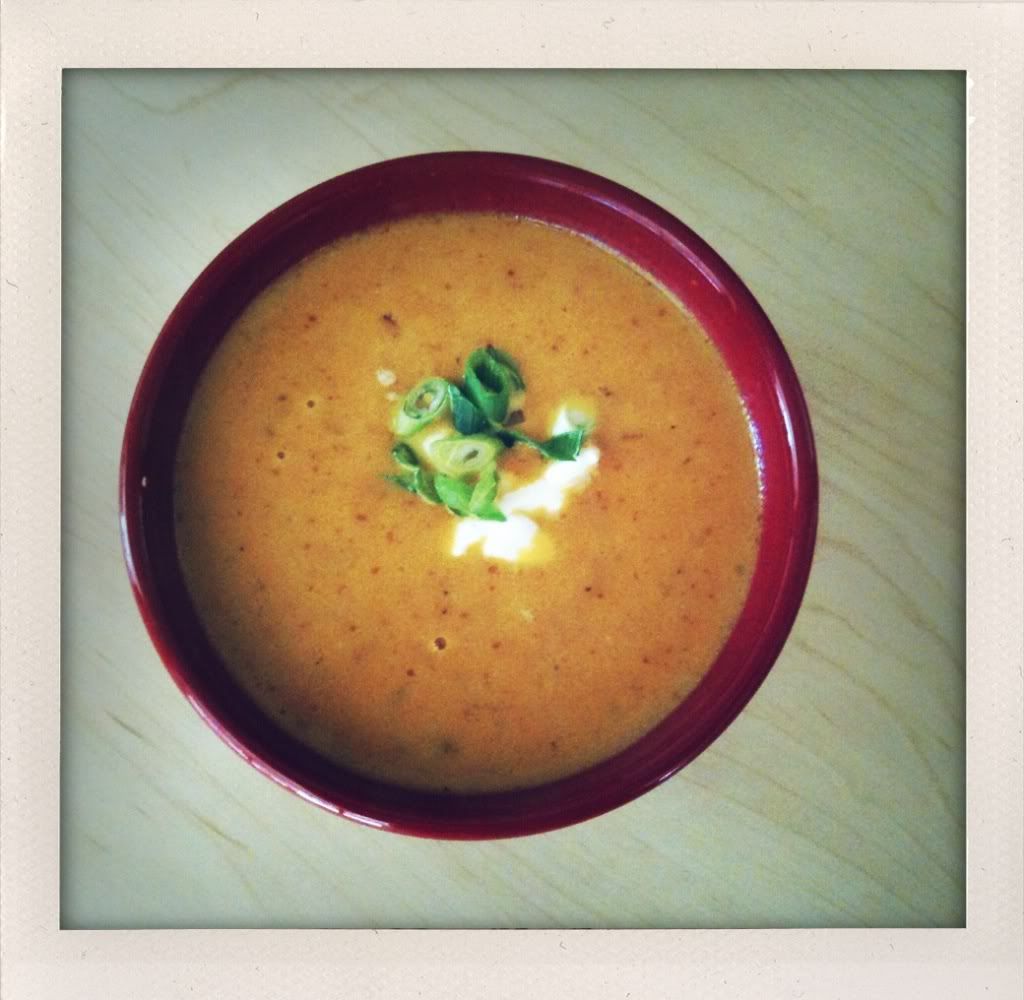 ½ cup butter
1 large onion finely chopped
40 oz. can of pumpkin puree
8 cups chicken stock
2 bay leaves
½ cup sugar
1 teaspoon curry powder
½ teaspoon nutmeg
3 cups heavy whipping cream
green onions,sliced
sour cream
In a large saucepan, sauté onion in butter. When onion is transparent (do not brown) add all other ingredients except the heavy whipping cream and green onions. Simmer 30 minutes over low heat, uncovered. Remove bay leaves.
Add heavy whipping cream and a pinch of salt to taste. Garnish with green onions and a dollop of sour cream.
*The original recipe suggested pureeing the soup in batches using a blender or food processor just before adding the heavy whipping cream. I personally enjoy a little texture to my soups, so choose to skip this step.
Printable recipe can be found
HERE
Upon first introduction,
Katie
paired this soup with a crusty warm bread and a delicious Fall salad mixed with diced honeycrisp apples, walnuts, and feta cheese dressed with an herb vinaigrette dressing. We have continued to enjoy this soup with these same pairings year after year. A nice
Riesling
is a great accompaniment too! ;)
I'll add the vinaigrette recipe too. :)
1 cup olive oil
1 T sugar
1/4 cup cider vinegar
1/4 cup fresh herbs (basil & rosemary)
1/4 tsp. salt
2 T Dijon mustard
1 tsp finely chopped garlic
Throw all of it in a bottle/jar and shake.