On Wednesday G. and I headed out in town to run a few errands. One of the most urgent being the need of milk! No milk for my morning latte that day! So we ran and got the little bit of food we needed and then made it a girls shopping day!
☺
First stop was the game section of the grocery store to pick up Zoo Tycoon 2 Marine Mania, which G. has been wanting for a while and could finally buy with her birthday money from Pop Pop and "Be Be."
Next we were off to my favorite coffee shop in town! YUM!
Then we hit the thrift store, yarn store, kitchen store to buy coffee for home, and JoAnn!
G. and I totally love our thrift store. We have to stay away some days, because we know we can't go in and come out empty handed...But this day we both had birthday money!
☺
Our thrift store is more like a department store thrift store. The prices are sometimes pretty ridiculous, my
sister
(the thrift store queen!) would probably choke at some of the price tags, but we know that most of our money spent there goes back into the community in some way. This particular day we both walked out with wonderful purchases! Here are mine: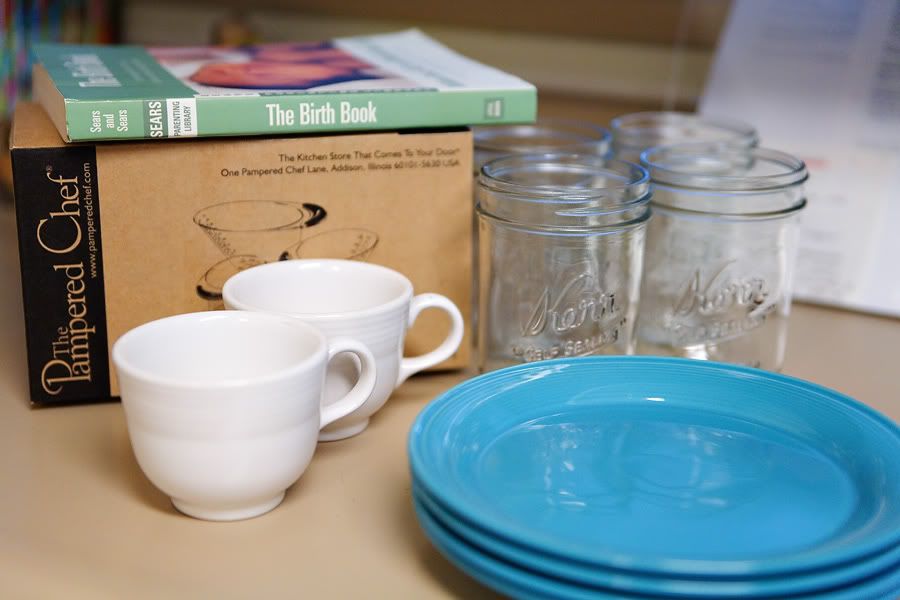 Pampered Chef Easy Read Measuring Cups — normally $23.00, bought new in the wrappers, in the box for $9.99!
Sears' The Birth Book — list price (which I almost spent last time I was at the bookstore) $14.99, bought for $2.99
4 Kerr Mason Jars $2 — these will be so lovely to use for our fresh homemade lemonade in the Summertime! I've used them many times already for iced lemon water. Even G. requested a glass as it looked so enticing!
A set of 4 beautiful dark aqua bread plates $2.49 (you'll be seeing these in a lot of food photos I'm sure! :)

2 white Fiesta cups .99¢ a piece. Lovely for those morning lattes!
Total spent: $19.45!
G. found THREE Webkinz without the tags (which she doesn't mind) for $2 a piece!
Here is a picture of my other lovely purchases that day: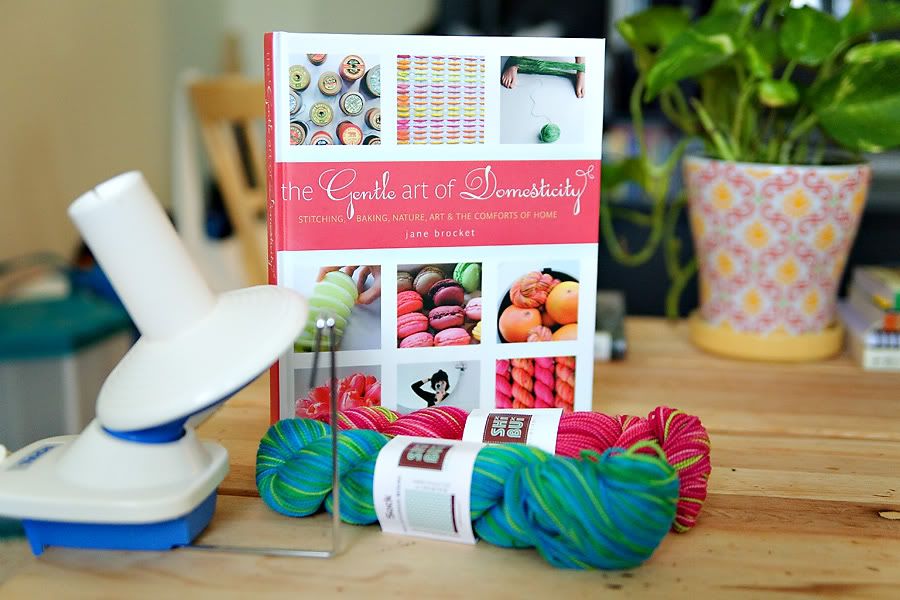 The Gentle Art of Domesticity with a 50% off coupon at JoAnn (normally $35, I paid $17.50)
And yarn to knit baby booties. I was trying to find a neutral color so whether the baby is a boy or girl they could wear them, when G. came up with the brilliant idea of knitting a pink pair AND a blue pair! (I love shopping with this girl!) So I bought this yummy yarn!
David had to work really late this night, so I ate alone with my new book...G. scarfed her dinner down (a rarity, as she is usually the last to finish) to resume playing her new computer game.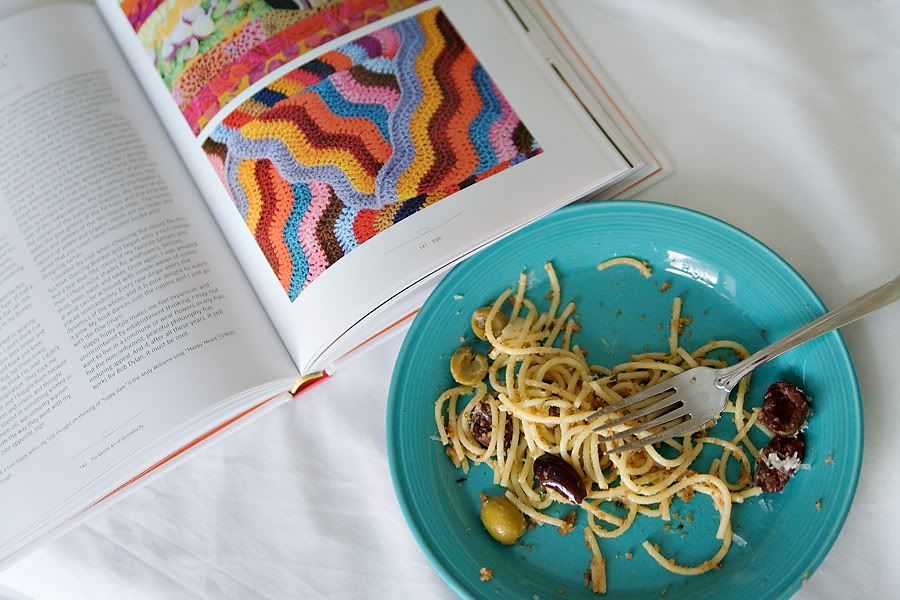 There's the plate already! Isn't it beautiful!?
☺