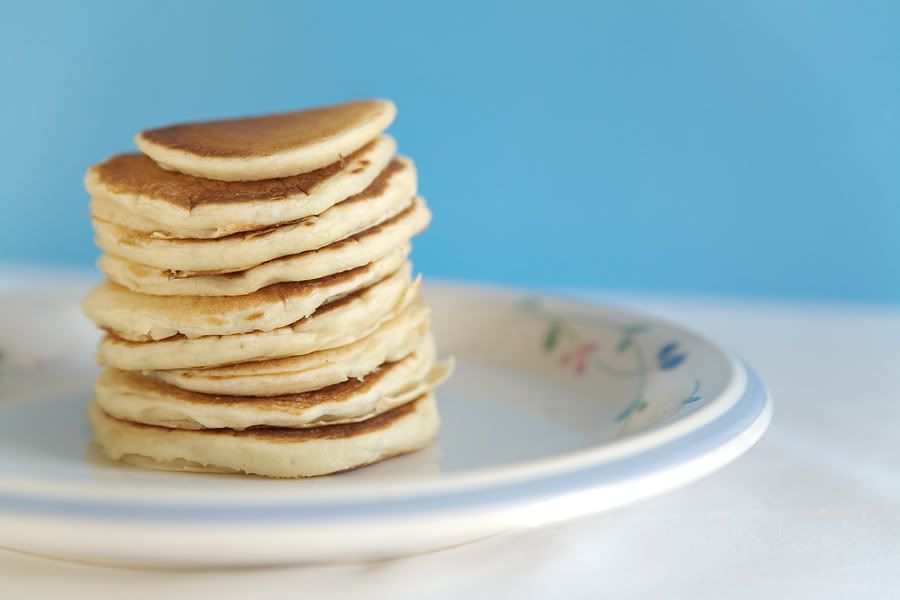 Pancakes
Vegan with a Vengeance
(adapted from original recipe)
Makes ten 4-inch pancakes
1 ¼ cups all-purpose flour
2 teaspoons baking powder
½ teaspoon salt
2 tablespoons olive oil
2-4 tablespoons water to thin batter as needed
1 cup milk
1 teaspoon vanilla extract
Oil and heat skillet/griddle to medium-high heat.
Sift together flour, baking powder, and salt.
Add wet ingredients until just combined.
Do not over mix or pancakes will be tough; a couple of lumps are okay.
Cook pancakes until browned on the bottom and bubbles form on the top, about 4 minutes.
Turn pancakes over and cook until the bottoms are browned and the pancakes are barely firm to touch.
Repeat with remaining batter, adding more oil to pan as needed.
*******************************************************************
I've struggled for many years to be able to make great pancakes. Up until last year I relied on packaged mixes. Not bad, but much like my quest to find the *perfect*
chocolate chip cookie recipe
, I wanted something better! This recipe fits the bill. I usually make these about 3 times a week for my little girl. She LOVES pancakes! I love them with butter and cinnamon sugar! Hope you guys enjoy them too!