Spurred on by my friend Bonnie's recent trip to the hair salon, and her schemes to freak out her hair dresser one day, (read her commentary
here
) I want to post these pictures from June.
Gwyneth participated in the library's summer reading program this year. The theme was "mystery." It was actually really cool the little events, and crafts they had. I love our library! It's awesome!
One of the last events was a craft night. At the closing of the craft they handed out stickers, and your very own mystery disguise:
a mustache.
Gwyneth agreed to get one, only if I would wear one with her. So we walked out of the library wearing our disguises.
She tired of it real quick, and became embarrassed. So I handed her mustache to Daddy, and he and I got a kick out of the looks we received driving around town. The most hilarious response was this man in the parking lot driving along who took a double-take. Literally! Rubber-neck and all! It was so funny!
(No, my camera is not sick, I ran a vintage film action on some of these pictures.)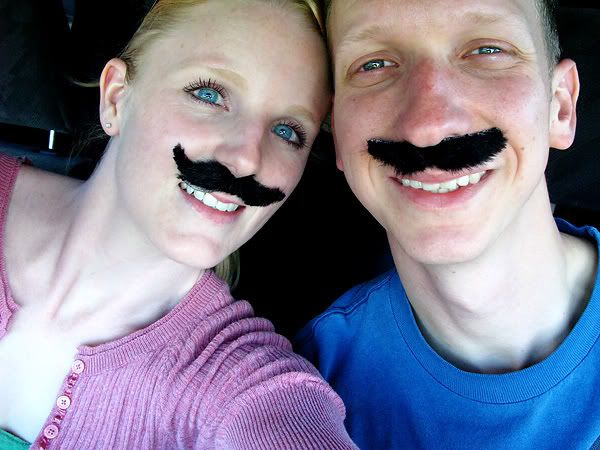 David sporting his Charlie Chaplin mustache. He looks a bit like his brother here.
She thought stickers on her cheeks were less embarassing. :o)